A New Method for Simultaneously Water Disinfection and Desalination
Posted by

Categories

Reports

Date

October 2, 2020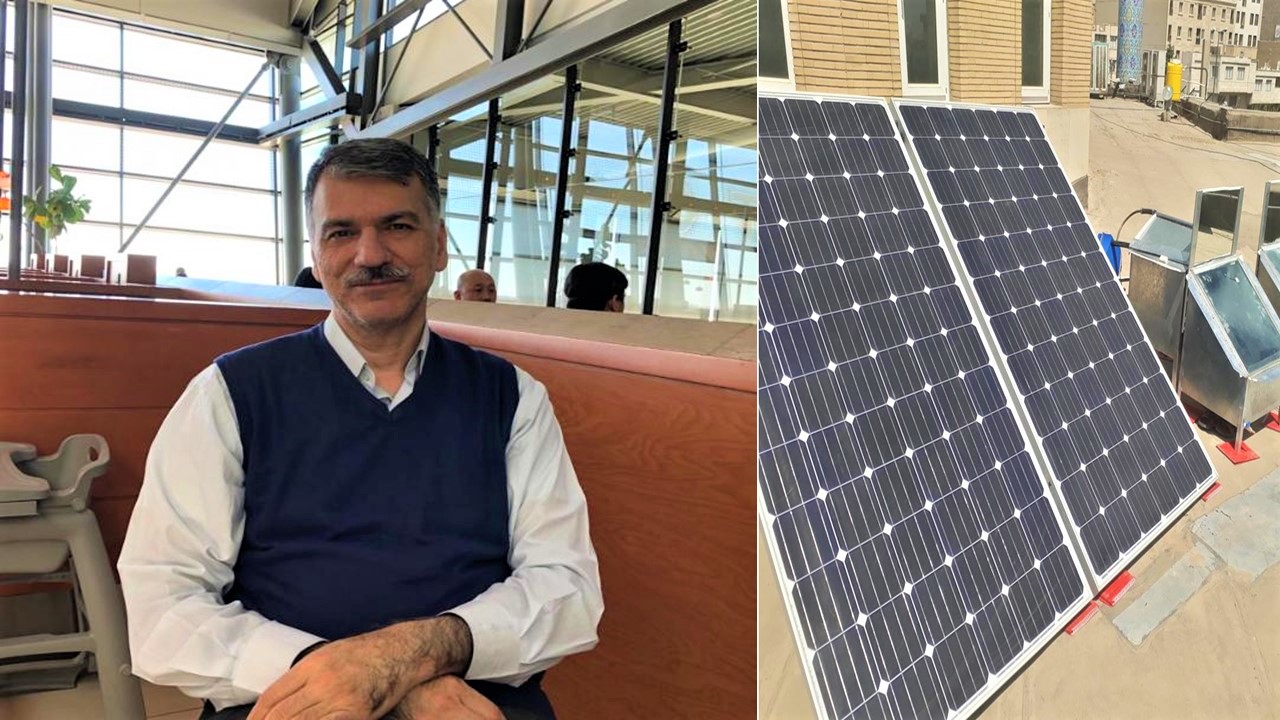 More than 96% of the available water on our planet is impure. Developing simple water purification around the world is crucial since over two million deaths a year, mostly of children are attributed to biologically unsafe water and preventable water-borne diarrheal diseases. Many desalination plants intend to utilize alternative energy sources instead of fossil fuels. Using renewable energy sources such as solar energy is a feasible option for the production of potable water.
One of the most common systems is Solar Still (SS), which is widely used in remote, arid, hot, and coastal areas. Due to the low productivity of SSs, many modifications have been used to enhance the performance of these systems. Researches indicate that using a condenser, which is coupled to SS causes to increase the produced freshwater. In addition to the SSs, there are some other methods to provide drinking water called water disinfection. The most conventional of water disinfectant methods is Chlorine and its compounds; however, this disinfectant method has environmental repercussion and is harmful to the human being; therefore, Dr. Majid Amidpour and his research group are looking for a new water disinfectant method, such as using nanoparticles that also modify SS. The most common nanoparticles used to disinfect water are Zinc oxide (ZnO) and silver (Ag) nanoparticles.
In this project, Dr. Amidpour and his team have tried to utilize silver nanofluid and condenser in a unit to provide a more efficient system that can disinfect and desalinate water simultaneously.
"Generally, this work has been performed based on distillation on the system commonly called 'solar still'. The proposed system setup consists of a single – slope evaporator chamber (solar still body), a glass cover, a basin inside the chamber that contains impure (or contaminated) water, a propeller fan, thermoelectric modules (for heating and cooling), silver nanofluid, and a double-slope symmetrical external condenser which is cooled by different methods. Also, two photovoltaic panels are used to supply the power consumed by the system's equipment", says Dr. Amidpour.
"Briefly, impure water that contains silver nanofluid filled in the basin of the solar still till a certain depth. Besides solar energy as the primary source of energy, beneath the basin of the solar still, the hot side of two thermoelectric modules stick to further heat the water. By increasing the temperature of the water, droplets of pure water form on the inner surface of the glass cover are collected at the bottom of the chamber. An external condenser is linked to the back of the solar still through a channel to increase the evaporator chamber capacity for a higher rate of evaporation through the propeller fan inside the solar still. One side of the external condenser is cooled by two thermoelectric modules and the other side with film cooling of water. The condensed water on each side of the condenser is collected separately to appraisal the performance of each cooling method." Seyed Masoud Parsa, the project's conceptualization, describes the modified system working principles.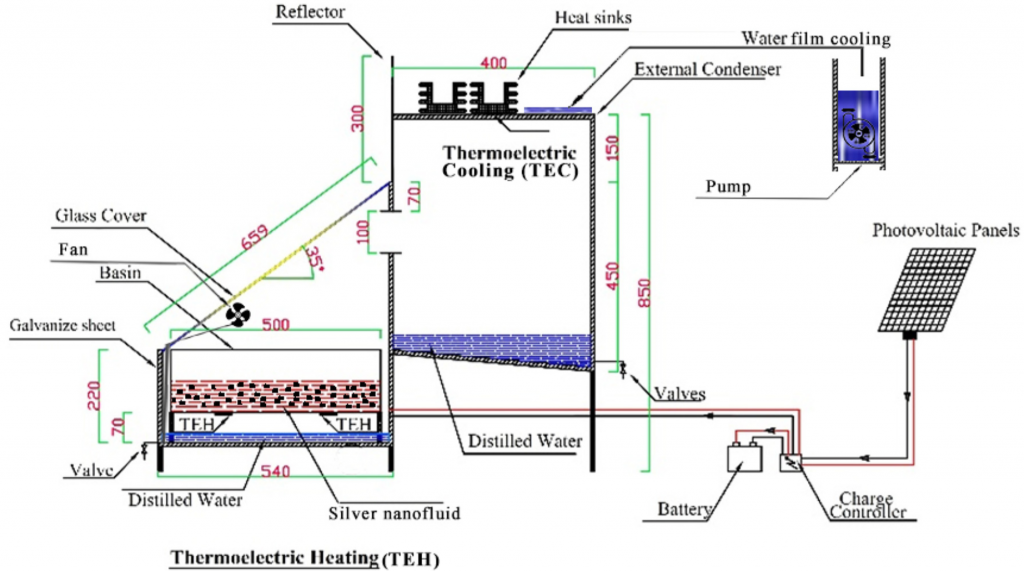 Can this system be used in large-scales? "In my opinion, the present study cannot be used in a large-scale application. This is not particularly true about the current study, but it is true for other small-scale solar distillation systems because of two reasons. Firstly, from economic standpoints, when it comes to small-scale systems such as solar stills and HDH, the cost of producing water is pretty high (5-130 $ / m3), and it cannot compete with a mega-scale system such as MED and RO which produce water at very low cost. Secondly, from technical points of view, no further studies have been performed on the performance of solar stills with nanofluids for more than a year. For this reason, the behavior of nanofluid during a year cannot be prognosticated." Dr. Amidpour answers.
In conclusion, from international-law responsibility developing these systems even with a higher price of water is mandatory. In 2015, the United Nations (UN) declared an action plan called Sustainable Development Goals (SDGs), which consists of 17 goals. In SDG, the goal 6 is explicitly related to water as it states "Ensure availability and sustainable management of water and sanitation for all"; therefore, developing such systems even under uncommon conditions (for an instant from the economic point of view) for regions, which suffer from lack of healthy water is a responsibility for any government.