K. N. Toosi University of Technology would like to have an extended relationship with universities and research institutes around the world to create partnership opportunities that promote the quality of the research in new subjects. In this regard, collaboration with Russia universities is a goal.
The "Advances in Organic Synthesis Webinar" in K. N. Toosi University of Technology is a platform for promoting cooperation between Russian and Iranian scientists sharing scientific interests in organic synthesis as well as interdisciplinary research subjects.
In this webinar, we invited three famous organic chemists in Russia from RUDN University, Saint Petersburg University and Russian Academy of Sciences. They will share the new results about the synthesis of novel organic compounds. The subjects of the webinar categorized as
a) Synthesis of lactams from imines
b) Donor-acceptor cyclopropanes in the synthesis of carbo- and heterocycles
c) Recent advances of Michael addition triggered MCR
We hope that the webinar will affect more collaboration between Iranian and Russian organic chemists.
Topics
Donor-acceptor cyclopropanes
Advances in organic synthesis and medicine
Time
Speaker
Titel
12:30 – 13:30
Prof. Dr. Leonid G Voskressensky
Michael addition triggered MCR,

Recent advances

13:30 – 14:30
Prof. Dr. Mikhail Krasavin
Making lactams from imines:  new synthetic developments

and biological application

14:30 – 15:30
Prof. Dr. I. V. Trushkov
Donor-acceptor cyclopropanes

in the synthesis of carbo- and heterocycles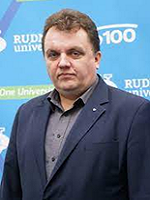 N. D. Zelinsky Institute of Organic Chemistry Russian Academy of Sciences
Russia
Date:23 June
Location: Virtual Event
Presentation Language: English
Organized by:
K. N. Toosi University of Technology
E-mail: international@kntu.ac.ir
Phone: +98-21-88881003