Soil disinfestation by microwave
Posted by

Categories

Reports

Date

February 21, 2021
Have you ever thought, what if there were no annoying plants and animals? Agriculture would be much better because lots of their yields destroy by these irritating plants. Dr. Aliakbarian, a professor at K.N.Toosi University of Technology, planned research to disinfestation soils to have a better product and more product. In recent years, weed control has become a severe agricultural industry problem since it causes the most severe damage to products. For example, in Iran, three weeds, Sinapis arvensis, Phalaris spp, and Avena fatua, cause wheat production reductions of almost 163 kg per hectare, equivalent to 23% damage wheat fields. The seed banks in the top few centimeters of soil play an important role in weed germination every year since the seed bank's vitality and longevity have a significant role in establishing weeds. Five consecutive years is necessary to effectively control weeds by chemical methods, provided there are no herbicide-resistant cases among the seeds. However, nine new biotypes of herbicide-resistant weeds are reported each year. Environmental problems, herbicide-resistant weeds, development of invasive species, as well as demand for healthy products are among the issues that have led to the reconsideration of non-chemical weed management.
Soil infestation with weeds has been one of the most critical barriers of modern agriculture, and it is necessary to have efficient control of weed seeds in the soil. Several methods to disinfest soil, like steaming or using fumigants, have adverse effects on the environment. Using microwaves to remove weed seeds in soil is another method that may have several benefits since the heat transfer rate is high and selective heating is archivable to do not harm the soil and other beneficial species.
Interest in the effect of high-frequency electromagnetic waves on biological materials began in the late 19th century, where studies showed that the main effect of electromagnetic waves on a seed is thermal. Each seed's ability to absorb microwave energy depends on its volume and mass, and moisture content. In 1991 Barker et al. reported that one could prevent weed germination by raising their temperature up to 75 to 85 degrees. The exposure time and exposure profile on the weeds is a matter of further research and differs from weed by weed and soil by soil. In general, the top 20-30 mm of soil's weed seeds have a higher chance of germination each year.
In this experiment, microwave radiation was used to remove weed seeds by reaching a specific temperature. Two soil samples were used to investigate the soil's humidity effect. Rapistrum rugosum, Lepyrodiclis holosteoides, and Orobanche are the most common weeds in Iran and found in the samples, with each experiment repeated four times.
Using different temperature measuring methods may provide different and inaccurate results. Using a commercial digital thermometer showed a significant error since the soil sample depth was not deep enough. Moreover, a radiometric thermometer measures the soil's surface temperature, and it is not appropriate for this experiment. Therefore, a handmade thermocouple was designed for the experiment's uncommon conditions.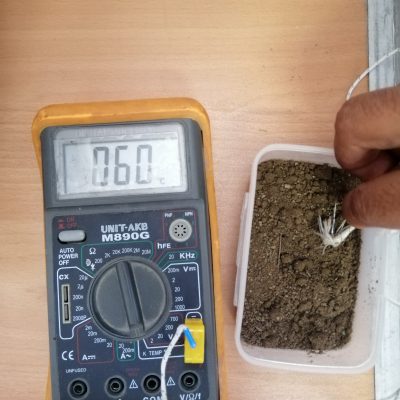 In the second part, the experiment was conducted in an open area to simulate agricultural land's natural condition. The microwave radiation effect on the ground was measured and used for removing weed seeds. There were concerns about radiation exposure to researchers, so aluminum foil was used to isolate the microwave device. During the experiment, the soil humidity was measured for further investigations.
Rapistrum rugosum seeds were separated using sieves, and ten intact seeds were selected for further experiment. Sulfuric acid (96%) was used to remove seed pods. The seeds were washed with water to remove unreacted acid. The seeds color changed to black after acid washing. The seed was planted in soil and put in an incubator. The humidity levels were between 50 and 55%.
Since the shape and color of Lepyrodiclis holosteoides and Orobanche seeds resemble soil, the separation of seeds and soil was impossible. Therefore, the samples' soil was used to culturing the seeds, and the samples were incubated to determine seeds removal efficiency.
The results demonstrate that if weed seeds' temperature increases up to 80 degrees, their germination will be severely reduced.